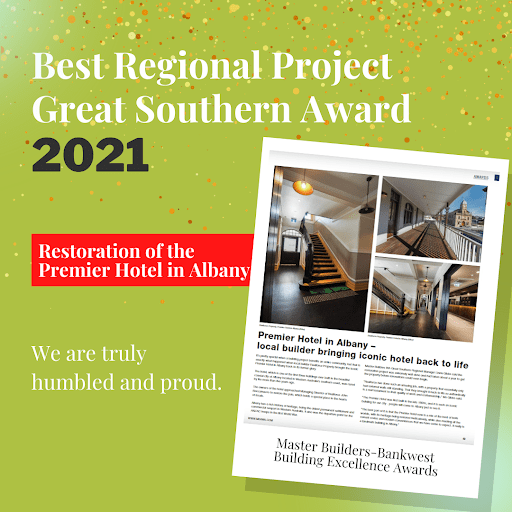 We Won the 2021 Best Regional Project Great Southern Award
Congratulations to our team for winning in the Master Builders Awards 2021!
Our Award
Last September, the 2021 Master Builders-Bankwest Building Excellence Awards recognised and awarded our outstanding efforts for restoring the Premier Hotel in Albany. Realforce Property is the proud recipient of the 2021 Best Regional Project Great Southern award. 
Linda Gibbs, Master Builders WA Great Southern Regional Manager, shared that the restoration was exquisitely done considering it practically only had the external walls standing. She reiterated that the project showed our quality of work and craftsmanship. 
Regional judge, Charlie Baggetta, has likewise commended our attention to detail. We have restored the property close to its original state, making it look authentic in the York Street tourist strip. 
The owners of the hotel approached us to restore and redevelop the beloved pub. We have successfully shifted the property's primary use from being a hotel to a tavern with a bottle shop. 
The restoration project was one of our most challenging yet rewarding projects we've done to date. We've collaborated with Architect Julie De Jong of H+H Architect who specialises in heritage buildings to make this possible. 
After months of careful planning and execution, and with the challenges brought by the pandemic, The Premier Hotel has once again impressed both locals and experts. 
The Iconic Premier Hotel 
The Premier Hotel was established in the late 1800s. It is one of the first three buildings that was built in the coastal city of Albany. However, the property was greatly ruined five years ago after being almost razed to the ground from fire. 
Today, the Premier Hotel boasts architectural beauty while meeting all the codes and conveniences the modern times require. We can now consider the Premier Hotel a remarkable landmark in Albany, thanks to our team's hard work, passion, and dedication. 
By having it restored to its former glory, local and international tourism in Albany is set to grow with people coming to the city to marvel at the historical structure that was brought back to life. 
Currently, the owners are looking for expressions of interest to lease the historic Tavern and Bottle shop. It can house 500 patrons and has a mix of open and private lounge areas. Your operations can run 7 days a week and the on-site parking can accommodate 60 vehicles. 
If you would like to view our client investment opportunities, click here.